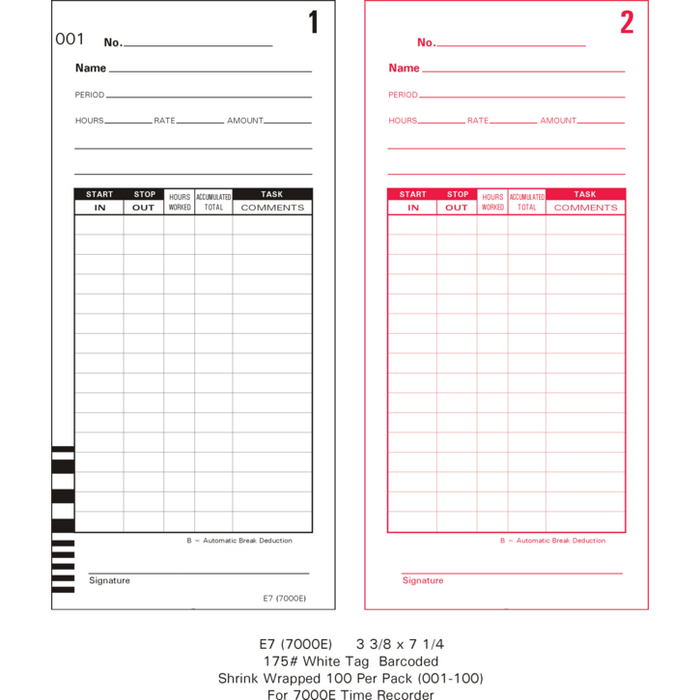 X10 Time Cards (Pack of 1000, 10 sets of 100 $70.00)
Information
Time Cards X10 bar coded and numbered time card for the Compumatic X1000, Lathem 7000E and 7500E time clocks. 10  lots of 1-100

(This item will be replaced by E7 Time Cards upon delivery). 

We sell millions of time cards cards every year. Our Time Cards are professionally manufactured to the manufacturers specification to USA standards not Mexican standards, This ensures they will work every time and not unusually crease or tear in the time clock.

Our time cards are precision made, rotary slit, from stock. Our time cards are fully guaranteed to match the manufacturers specification in description in size and weight. Each box is fully guaranteed.

Time Card Size: 3 3/8" wide x 7 1/4" long
Printed: 2 sided Black and red ink

Card stock: 175 lb (full weight to mfr spec.) 
Quantity: 1000 per pack
Shipping Weight: per 1000 - 11 lbs

Notes: Handles Weekly, Bi-weekly, Semi-monthly and Monthly pay periods
Proudly made in the USA