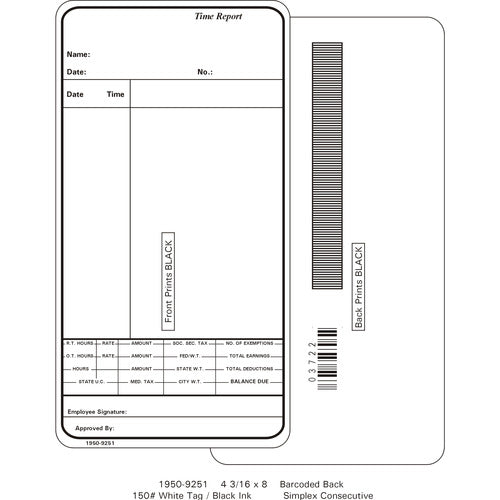 Simplex 1950-9251 Time Cards (Pack of 1000's $103.00)
Information
1950-9251 Time Cards for Simplex Consecutive Time Recorder. Bar code on reverse. 
November 2017 Latest Design. 

We sell millions of time cards cards every year. Our Time Cards are professionally manufactured to the manufacturers specification to USA standards not Mexican standards, This ensures they will work every time and not unusually crease or tear in the time clock.

Our time cards are precision made, rotary slit, from stock. Our time cards are fully guaranteed to match the manufacturers specification in description in size and weight. Each box is fully guaranteed.

Time Card Size: 4 3/16" wide x 8" long
Printed: 2 sided Black ink on both sides

Card stock: White tag, 150-lb (full weight to mfr spec.) 
Shipping Weight: per 1000 - 12 lbs
Notes: No days indicated on cards, suits any period start day
Proudly made in the USA