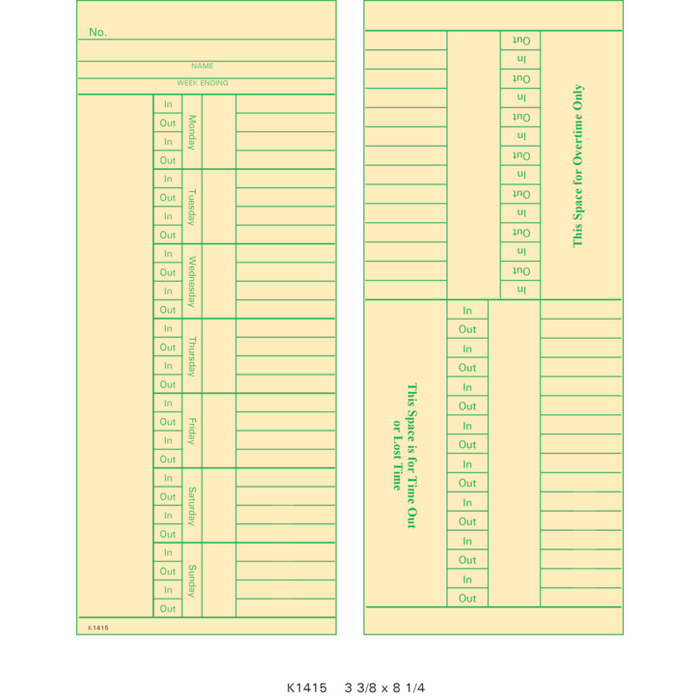 9664A Time Cards (Pack of 1000's $33.99)
Quantity: 1000 per pack.
Top Quality, Money Back Guarantee.
Ships From Stock
Information
#9664 time cards for use with Time recorders, such as the Acroprint 125/150/175 (all models, Acorprint ES700/900 the Amano Pix range, Lathem 2000/4000 series, 100E, 1600E, LT 2400, 2200 . Seiko Precision TP-5/10/TP20, Simplex Patriot, Simplex 100 and others. (Cards only operate in non calculating sideprinters) 
We sell millions of time cards cards every year. Our Time Cards are professionally manufactured to the manufacturers specification to USA standards not Mexican standards, This ensures they will work every time and not unusually crease or tear in the time clock.

Our time cards are precision made, rotary slit, from stock. Our time cards are fully guaranteed to match the manufacturers specification in description in size and weight. Each box is fully guaranteed.

(This item will be replaced by K1415-2 Time Card upon delivery). 
Time Card Size: 3 3/8" wide x 8 1/4" long
Printed: 2 sided green ink both sides

Card stock: 150-lb (full weight to mfr spec.) 
Shipping Weight: per 1000 - 11 lbs

Notes: 
Proudly made in the USA